[Update: Neven verwijst in een van zijn commentaren naar een update van deze grafiek. Die grafiek volgt hieronder: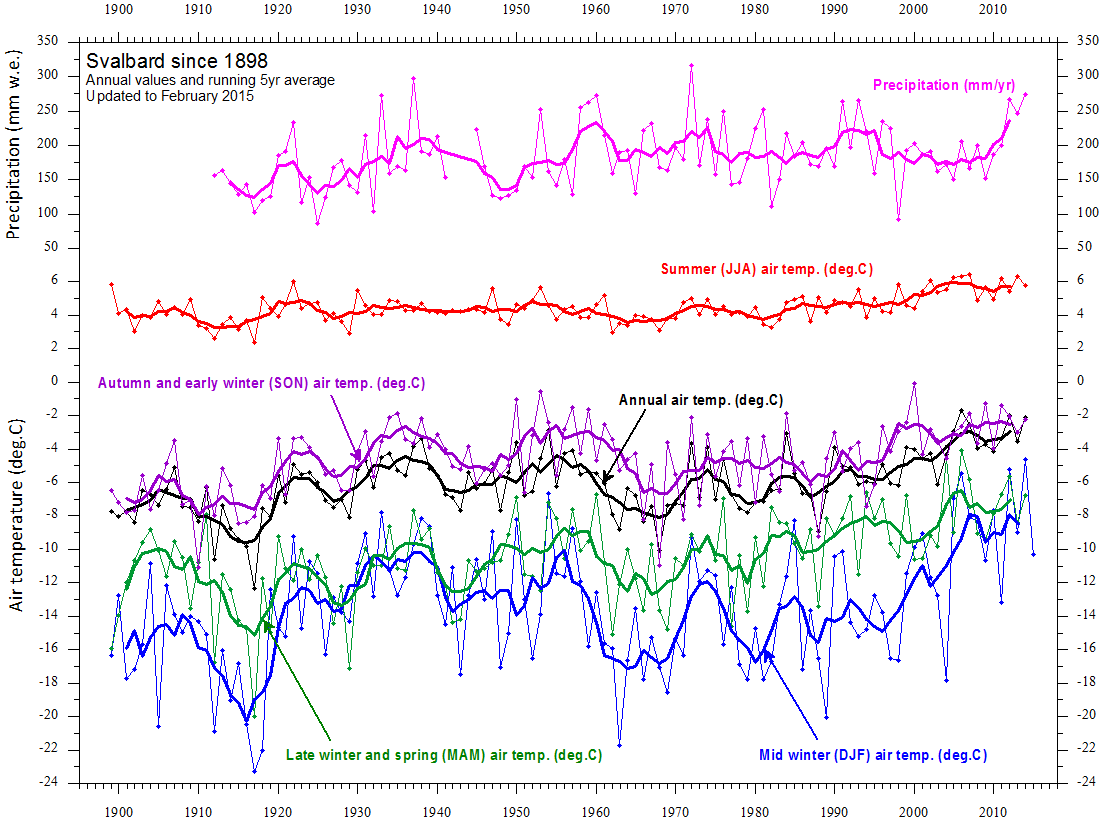 [Eind update]
Op de NOS.nl homepage vandaag een interview met mij in verband met de expeditie naar Spitsbergen. De kop luidt: 'Klimaatonderzoekers lijden aan tunnelvisie'. Heleen Ekker van de NOS benaderde mij twee weken geleden voor een achtergrondgesprek, samen met Martijn Bink van de NOS, die enkele dagen later mee zou gaan met de grote onderzoeksexpeditie naar Spitsbergen.
Het idee dat er sprake is van tunnelvisie in de klimaatwetenschap werk ik verder uit in het boek Hoezo 5 voor 12? waaraan ik momenteel werk. Er is zeker sprake van een soort obsessie voor CO2 en die remt in mijn optiek de vooruitgang van de klimaatwetenschap. Door de afvlakking van de mondiale temperatuur rond 2000 is er wel een verbetering gekomen omdat onderzoekers wel moesten erkennen dat op een termijn van tien tot vijftien jaar de invloed van natuurlijke of interne variabiliteit ook behoorlijk groot kan zijn.
We weten dat de variabiliteit rond de Noordpool erg groot is, zoals de grafiek hierboven laat zien. Deze reeks is samengesteld uit verschillende meetstations zoals beschreven in dit artikel. Er is sprake van opwarming op Spitsbergen, maar er zijn ook gigantische fluctuaties te zien, zoals een winteropwarming van 12 graden in slechts vijf jaar (!) tussen 1917 en 1922. Het artikel zegt hierover:
A prominent feature of the homogenised Svalbard temperature record is a marked warming 1917–1922, which changed MAAT at sea level from about −12.2°C to −4.9°C. However, it is not known if the low starting temperature in the record (Figure 1) is typical for Little Ice Age conditions in Svalbard, or if it only represents the culmination of a decal-scale cold period in the transition to warmer conditions following the Little Ice Age. Comparisons with early records from northern Norway (e.g., Alta Airport, 70.0°N 23.4°E, 1880–1939; Vardø, 70.37°N 31.10°E, 1840–2010; Mehaven-Sletnes, 71.9°N 27.8°E, 1899–1940) suggest that this might well be the case. Judging from these stations, Svalbard MAAT in the decade leading up to 1912 presumably was 1 to 3°C above what was recorded between 1912 and 1917. If so, the linear trend of 0.23°C per decade calculated for the 1912–2010 Svalbard MAAT record indicates an unrealistic high overall temperature increase rate for the past century. If one instead calculates the trend between the two temperature peaks in 1938 and 2006, the linear decadal trend is 0.14°C only. Clearly it is precarious to calculate an overall trend from a low to a peak value.
Verderop in het artikel laten de onderzoekers de correlatie zien met de Atlantic Multidecadal Oscillation (AMO):
Mijn boodschap aan Martijn Bink was om die invloed van natuurlijke variabiliteit goed in het achterhoofd te houden. Er was van 1938 tot 1990 sprake van 'afkoeling' op Spitsbergen en daarna weer opwarming. Welke rol CO2 speelt in dit geheel is nog verre van duidelijk. Op de website van de expeditie, sees.nl, heb ik het woord CO2 niet kunnen vinden. Maar in media-optredens spreken de initiatiefnemers wel vaak over 'de snelle verandering in het gebied'. Stilzwijgend gaan ze ervan uit dat die tegenwoordig vrijwel volledig door CO2 veroorzaakt worden. Dat is voorbarig.